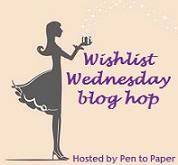 This is a blog hop focused on books in our wishlist.
This week I'm wishing for:
Red-Headed Stepchild
by Jaye Wells
In a world where being of mixed-blood is a major liability, Sabina Kane has the only profession fit for an outcast: assassin. But, her latest mission threatens the fragile peace between the vampire and mage races and Sabina must scramble to figure out which side she's on. She's never brought her work home with her---until now.
This time, it's personal.
I read a sample of it on my Kindle. I LOVED it! My friend tried to get me to read it in high school. But back then I hadn't started getting into Urban Fantasy. Now that I have and know that I love it, I'm going to have to buy this one.
However I don't exactly like paying over 5 bucks for an ebook. If I'm going to spend that much money I might as well buy the whole damn thing.
What's in your wishlist?